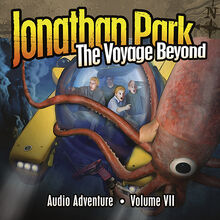 The Voyage Beyond is the 7th album.
Summary
Jonathan and the Creation Response Team meet an eccentric philanthropist-explorer named Alexander DeMarcus. Mr. DeMarcus appears to have a passion for marine life, exploring the ocean depths with his experimental electromagnetic submarine, The Manta. At first the CRT joins forces with Mr. DeMarcus, excited to learn more about God's amazing creatures beneath the sea. But the team soon realizes that this mysterious explorer has something even bigger in mind.
The Voyage Beyond

Album no.

7
Episodes
Trivia
Ad blocker interference detected!
Wikia is a free-to-use site that makes money from advertising. We have a modified experience for viewers using ad blockers

Wikia is not accessible if you've made further modifications. Remove the custom ad blocker rule(s) and the page will load as expected.