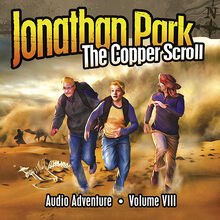 The Copper Scroll

Album

8
This is the 8th album.
Summary
A real artifact discovered in the caves alongside the Dead Sea Scrolls seems to contain the locations of more than sixty ancient treasures. Jonathan, Kendall, Jim, and Jessie are joined by archaeologist, Ian Dawson, and their faithful guide, Akiva as they uncover the trail to this real-life mystery which has stumped archaeologists for more than fifty years. Follow the team as they get closer to the treasure and face opposition on every side – even … Myles Morgan!
Episodes
Trivia
Ad blocker interference detected!
Wikia is a free-to-use site that makes money from advertising. We have a modified experience for viewers using ad blockers

Wikia is not accessible if you've made further modifications. Remove the custom ad blocker rule(s) and the page will load as expected.