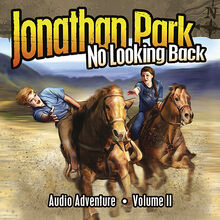 No Looking Back is the 2nd album of Jonathan Park.
Summary
The Park and Brenan families are committed to opening Brenan Ranch to the public as they teach scientific evidence that is in harmony with the Bible. But will they be able to stand against the opposition, or will their efforts be thwarted? They resolve that they've come too far to stop – that there's no looking back!
Episodes
Ad blocker interference detected!
Wikia is a free-to-use site that makes money from advertising. We have a modified experience for viewers using ad blockers

Wikia is not accessible if you've made further modifications. Remove the custom ad blocker rule(s) and the page will load as expected.