Jonathan Park Wiki is a collaborative website about the small-town world of Jonathan Park that first started to grow on September 14, 2010. The wiki format allows anyone to create or edit any article, so we can all work together to create the site. Check out the FAQ to help you get started!
Featured Character
Jessie Brenan:
Jessie Breanen is the daughter of Martha and Jim Breanen
She is very adventurous and loves to explore, she enjoys learning about creation, from more of a country perspective, rather then all the technological age of things.
Read More...
Featured Album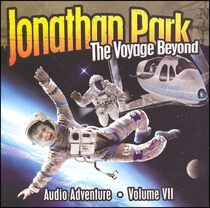 The Voyage Beyond:
In The Voyage Beyond, Jonathan and the Creation Response Team meet an eccentric philanthropist/explorer named Alexander DeMarcus. Mr. DeMarcus appears to have a passion for marine life, exploring the ocean depths with his experimental electromagnetic submarine, The Manta.
At first, the CRT joins forces with Mr. DeMarcus, excited to learn more about God's amazing creatures beneath the sea. But the team soon realizes that this mysterious explorer has something even bigger in mind. Discover his incredible secret in The Voyage Beyond!
Read more...