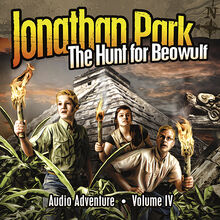 Hunt for Beowulf is the 4th album.
Summary
A professional artifacts thief known as the Jaguar has stolen the original Beowulf manuscript from the British Library. Now the Creation Response Team is on a mission to get it back as they travel to many places including England, Iwo Jima, the interior jungles of the Yucatán Peninsula, and the Galápagos Islands!
Episodes
Trivia
Ad blocker interference detected!
Wikia is a free-to-use site that makes money from advertising. We have a modified experience for viewers using ad blockers

Wikia is not accessible if you've made further modifications. Remove the custom ad blocker rule(s) and the page will load as expected.